A Legacy that is now 4 Generations in the Making
February 26, 2022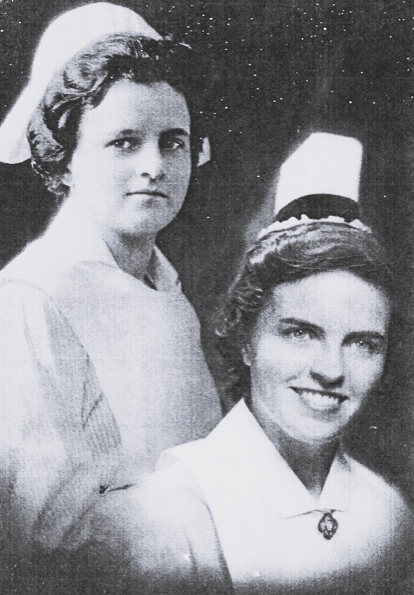 A burning desire for helping others through healthcare and volunteerism has given birth to an enduring legacy of scholarship gifts to area nurses—thanks to Mary Edwards Conarro. Mary's passion for nursing extends across four generations in her family. Starting with her mother, Letitia Rooney Edwards; Mary herself; Mary's daughter, Mary Ann Conarro Carlson; and now Mary's granddaughters, Morgan and Alexandria Conarro, all have been nurses.
Born, raised, and schooled in Hempstead, Long Island, Mary Ethel Edwards Conarro was positively influenced by her mother. Letitia Rooney graduated from the Brooklyn School of Business in 1922 and began her career as a secretary. Shortly thereafter, she decided to become a nurse, graduated with a degree in nursing from Brooklyn Hospital and began her nursing career caring for her cancer patient, John Edwards in his home. While tending to Mr. Edwards, Letitia met his brother, Clarence, fell in love, married him, and they became the proud parents of Mary. After starting her family, Letitia gave up her nursing career and instead began volunteering in the healthcare field to help those in need.
Influencing Mary's decision to become a nurse was her father's serious injury while she was a child. He wasn't able to get the care he needed in Hempstead, so he was transported to St. Luke's Hospital in New York City. Also, Mary had a friend whose mom was a nurse. These impacted Mary in such a way that it derailed her original dream of attending the Pratt Institute in Brooklyn for a degree in Fashion Design. Instead, she enrolled in a 3-year nursing program at St. Luke's, graduating in 1954 at age 20 with her degree. Her dad had paid the grand sum of $500 for all 3 years!
After a teaching career of 22 years, Mary's daughter, Mary Ann Conarro Carlson, received her nursing degree as a non-traditional student at age 46. Mary Ann is currently employed at a wound care clinic in Richmond, VA. Morgan and Alexandria Conarro, Mary's granddaughters, both with Bachelor of Science in Nursing degrees (BSN), currently are at Boston Children's Hospital, which in 2021, was recognized by U. S. News and World Report as the best pediatric hospital in the nation for the 8th consecutive year.
Similar to her mother, Mary Ethel Edwards began her career as a nurse working at St. Luke's for a year and then decided she wanted to go into teaching Public Health back in Hempstead County. It was there that she met her husband-to-be, Hal Conarro, during a bridge game. Shortly afterward, they married and moved to Hal's hometown of Warren, PA, where she went to work at Warren General Hospital.
Proving that the apple doesn't fall far from the tree, she followed in her mother's footsteps, started her family, and gave up her nursing career. Like Letitia, she immersed herself in volunteer activities for the American Cancer Society for 25 years and for the Visiting Nurses Association for 10 years. Mary also taught golf lessons to kids for at least 30 years, an avocation that stemmed from her being a 27-time golf club champion at her home course of Conewango Valley Country Club! With the help of three friends, Mary formed the Sweet Adelines Chapter of Warren. Sweet Adelines International is a worldwide organization of women singers, established in 1945, committed to advancing the musical art form of barbershop harmony through education and performances. Mary never forgot her parents' motto of "Leave your country better than you found it."
Mary's husband, Hal, and his lifelong friend and fellow Dartmouth grad, Bob Sokolski, were entrepreneurs and started their own wildly successful business, Whirley Industries, in 1970. Both of them are revered in Warren for their legendary philanthropy and that rubbed off on both of their wives, Mary and Sally.
In 2019, Mary decided that she wanted to create her own legacy of philanthropy by establishing the Mary Edwards Conarro Endowed Nursing Scholarship. This fund is at the Community Foundation of Warren County, and Mary has her own selection committee that chooses the recipients of the annual awards.
Recognizing the shortage of nurses due to burnout caused by the pandemic in 2021 and 2022, Mary's scholarship will support the growing need for training nurses locally to work in our Warren County community. Mary's desire is to foster continuing education to encourage students to be licensed at the level of a Registered Nurse (RN), and along the way she is open to offering that support to our local Warren-Forest Hi-Ed 1-year program provided by Venango Technology Center, 2-year programs, or 4-year programs. Mary's scholarship supports both traditional and non-traditional means of education.
After meeting with Mr. Joe Akif, Director of Nursing at Warren General Hospital, Mary discovered that starting salaries for nurses in our small town are as high as $62,000 annually, so Mary considers that an incredible return on her investment if the students she helps stay in Warren County after they receive their degrees.
Mary's legacy will now live in perpetuity. There is no better way to leave a gift to her community than this. She hopes her story will encourage others to define their own personal legacies so as to enhance and sustain the quality of life in Warren County.