2019 Warren Gives Number of Donations
| | |
| --- | --- |
| Organization | # Donations |
| A Safe Place | 78 |
| Allegheny Center for the Arts | 33 |
| Allegheny Community Center | 34 |
| Allegheny Outdoor Club | 18 |
| American Cancer Society | 34 |
| American Heart Association | 17 |
| American Red Cross Warren County Chapter | 24 |
| Audubon Community Nature Center-Warren County School Programs | 53 |
| Bear Lake Volunteer Fire Department | 2 |
| Bollinger Enterprises (BEI) | 77 |
| Boy Scouts – Chief Cornplanter Council & Camp Olmsted | 81 |
| Brokenstraw Valley Fund | 20 |
| Calvary Baptist Church, Warren | 14 |
| Caring For Life | 51 |
| CASA of Warren and Forest Counties | 73 |
| Cherry Grove Volunteer Fire Department | 8 |
| Clarendon Fire Department | 27 |
| Community Foundation Scholarship Fund | 25 |
| Conewango Creek Watershed Association | 18 |
| Crary Art Gallery | 69 |
| Crary Home | 9 |
| Don Mills Achievement Center | 62 |
| Elk Township Historical Society | 37 |
| Family Services of Warren County | 49 |
| First Church of the Nazarene County Food Pantry | 27 |
| First Presbyterian Church of Warren Mission Projects | 23 |
| Foundation for Free Enterprise Education/PFEW | 5 |
| Garland Volunteer Fire Department | 14 |
| Girl Scouts of Western Pennsylvania | 18 |
| Glade Volunteer Fire Department | 42 |
| Grace United Methodist Church | 16 |
| Grand Valley Volunteer Fire Department | 5 |
| Habitat for Humanity of Warren County | 35 |
| Hospice of Warren County | 241 |
| House of Hope of Warren County | 91 |
| Inter-Faith Chapel of Warren | 3 |
| Irvine Presbyterian Church | 18 |
| Jefferson DeFrees Family Center | 31 |
| Kids In Need Fund | 43 |
| Lander Volunteer Fire Department | 17 |
| Leadership Warren County | 20 |
| March of Dimes | 5 |
| Miracle Mountain Ranch | 96 |
| New Hope Assistance Dogs | 41 |
| North Warren Volunteer Fire Department | 41 |
| Paws Along the River Humane Society | 213 |
| Pleasant Volunteer Fire Department | 28 |
| Revitalization Of Youngsville (ROY) | 23 |
| Rouse Estate | 26 |
| Russell United Methodist Community Outreach | 16 |
| Russell Volunteer Fire Department | 35 |
| Ruth M. Smith Center | 102 |
| Scandia Volunteer Fire Department | 16 |
| Second Harvest Food Bank BackPack Program | 51 |
| Second Harvest Food Bank of NW PA | 47 |
| Sheffield Area Hospitality Center | 12 |
| Sheffield Ecumenical Food Pantry | 15 |
| Sheffield Sports Boosters | 9 |
| Sheffield Township Library | 21 |
| Sheffield United Methodist Church | 17 |
| Sheffield Volunteer Fire Department | 21 |
| Spring Creek Volunteer Fire Department | 28 |
| Starbrick Volunteer Fire Department | 16 |
| Struthers Library Theatre | 185 |
| Sugar Grove Free Library | 61 |
| Sugar Grove Volunteer Fire Department | 20 |
| The Boonies | 6 |
| The Crossing | 50 |
| The Salvation Army Warren Worship & Service Center | 65 |
| The Toy Shoppe of Warren | 29 |
| Tidioute Area Community Fund | 7 |
| Tidioute Area Health & Dental Center | 4 |
| Tidioute Area Volunteer Fire Department | 30 |
| Tidioute Public Library | 13 |
| Trails At Jakes Rocks | 24 |
| Tiona United Methodist Church | 2 |
| Trinity Memorial Episcopal Church | 18 |
| United Fund of Warren County | 12 |
| Warren Area Student Union | 37 |
| Warren Athletics Fund | 18 |
| Warren Co. 4th of July Organization | 70 |
| Warren Concert Association | 39 |
| Warren County 4-H | 20 |
| Warren County Childrens Advocacy Center | 23 |
| Warren County Historical Society | 69 |
| Warren County Intergovernmental Co-Op Emergency Services | 4 |
| Warren County School District Food Pantry Program | 41 |
| Warren County Special Olympics | 46 |
| Warren County Summer Music School | 50 |
| Warren County Toys for Tots | 20 |
| Warren County Veterans Council | 21 |
| Warren County YMCA | 118 |
| Warren First United Methodist Church | 9 |
| Warren Forest Higher Education Council | 9 |
| Warren General Hospital Cancer Care Center | 43 |
| Warren Philharmonic | 55 |
| Warren Players | 24 |
| Warren Public Library | 240 |
| Warren-Forest Counties Economic Opportunity Council | 10 |
| Wild Woods Animal Park | 18 |
| Woman's Club of Warren – Education, Scholarship, Historic Preservation | 32 |
| Women's Care Center | 62 |
| Wrightsville Volunteer Fire Department | 12 |
| Youngsville Public Library | 130 |
| Youngsville Volunteer Fire Department | 15 |
| Youth Connection | 56 |
2019 Warren Gives Donations by Number of States
| | |
| --- | --- |
| Organization | # States |
| A Safe Place | 1 |
| Allegheny Center for the Arts | 2 |
| Allegheny Community Center | 1 |
| Allegheny Outdoor Club | 4 |
| American Cancer Society | 1 |
| American Heart Association | 1 |
| American Red Cross Warren County Chapter | 1 |
| Audubon Community Nature Center-Warren County School Programs | 8 |
| Bear Lake Volunteer Fire Department | 1 |
| Bollinger Enterprises (BEI) | 2 |
| Boy Scouts – Chief Cornplanter Council & Camp Olmsted | 1 |
| Brokenstraw Valley Fund | 1 |
| Calvary Baptist Church, Warren | 2 |
| Caring For Life | 1 |
| CASA of Warren and Forest Counties | 1 |
| Cherry Grove Volunteer Fire Department | 2 |
| Clarendon Fire Department | 2 |
| Community Foundation Scholarship Fund | 2 |
| Conewango Creek Watershed Association | 3 |
| Crary Art Gallery | 3 |
| Crary Home | 2 |
| Don Mills Achievement Center | 3 |
| Elk Township Historical Society | 3 |
| Family Services of Warren County | 3 |
| First Church of the Nazarene County Food Pantry | 1 |
| First Presbyterian Church of Warren Mission Projects | 1 |
| Foundation for Free Enterprise Education/PFEW | 1 |
| Garland Volunteer Fire Department | 1 |
| Girl Scouts of Western Pennsylvania | 3 |
| Glade Volunteer Fire Department | 2 |
| Grace United Methodist Church | 2 |
| Grand Valley Volunteer Fire Department | 2 |
| Habitat for Humanity of Warren County | 1 |
| Hospice of Warren County | 8 |
| House of Hope of Warren County | 1 |
| Inter-Faith Chapel of Warren | 1 |
| Irvine Presbyterian Church | 2 |
| Jefferson DeFrees Family Center | 1 |
| Kids In Need Fund | 3 |
| Lander Volunteer Fire Department | 2 |
| Leadership Warren County | 1 |
| March of Dimes | 1 |
| Miracle Mountain Ranch | 40 |
| New Hope Assistance Dogs | 1 |
| North Warren Volunteer Fire Department | 2 |
| Paws Along the River Humane Society | 7 |
| Pleasant Volunteer Fire Department | 1 |
| Revitalization Of Youngsville (ROY) | 1 |
| Rouse Estate | 2 |
| Russell United Methodist Community Outreach | 1 |
| Russell Volunteer Fire Department | 2 |
| Ruth M. Smith Center | 10 |
| Scandia Volunteer Fire Department | 1 |
| Second Harvest Food Bank BackPack Program | 3 |
| Second Harvest Food Bank of NW PA | 2 |
| Sheffield Area Hospitality Center | 2 |
| Sheffield Ecumenical Food Pantry | 1 |
| Sheffield Sports Boosters | 2 |
| Sheffield Township Library | 3 |
| Sheffield United Methodist Church | 1 |
| Sheffield Volunteer Fire Department | 2 |
| Spring Creek Volunteer Fire Department | 1 |
| Starbrick Volunteer Fire Department | 1 |
| Struthers Library Theatre | 5 |
| Sugar Grove Free Library | 17 |
| Sugar Grove Volunteer Fire Department | 5 |
| The Boonies | 1 |
| The Crossing | 1 |
| The Salvation Army Warren Worship & Service Center | 1 |
| The Toy Shoppe of Warren | 4 |
| Tidioute Area Community Fund | 1 |
| Tidioute Area Health & Dental Center | 1 |
| Tidioute Area Volunteer Fire Department | 3 |
| Tidioute Public Library | 3 |
| Trails At Jakes Rocks | 2 |
| Tiona United Methodist Church | 2 |
| Trinity Memorial Episcopal Church | 2 |
| United Fund of Warren County | 2 |
| Warren Area Student Union | 1 |
| Warren Athletics Fund | 4 |
| Warren Co. 4th of July Organization | 5 |
| Warren Concert Association | 3 |
| Warren County 4-H | 2 |
| Warren County Childrens Advocacy Center | 4 |
| Warren County Historical Society | 4 |
| Warren County Intergovernmental Co-Op Emergency Services | 2 |
| Warren County School District Food Pantry Program | 3 |
| Warren County Special Olympics | 2 |
| Warren County Summer Music School | 2 |
| Warren County Toys for Tots | 1 |
| Warren County Veterans Council | 1 |
| Warren County YMCA | 5 |
| Warren First United Methodist Church | 1 |
| Warren Forest Higher Education Council | 1 |
| Warren General Hospital Cancer Care Center | 3 |
| Warren Philharmonic | 3 |
| Warren Players | 2 |
| Warren Public Library | 10 |
| Warren-Forest Counties Economic Opportunity Council | 1 |
| Wild Woods Animal Park | 1 |
| Woman's Club of Warren – Education, Scholarship, Historic Preservation | 2 |
| Women's Care Center | 1 |
| Wrightsville Volunteer Fire Department | 3 |
| Youngsville Public Library | 10 |
| Youngsville Volunteer Fire Department | 2 |
| Youth Connection | 6 |
To donate to Warren Gives on May 22 from 6am to 10pm visit WarrenGives.org.
At 8pm the donation total was $392,354.  No further dollar totals or ranking updates will be provided this evening.
Final numbers will be made public within a few days and final rankings and prize winners will be announced at the check ceremony June 12th.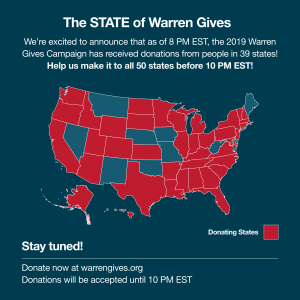 Top 20 Organizations by Dollar Amount (as of 7:00 PM EST)
Struthers Library Theatre $25,010
Paws Along the River Humane Society $24,800
Warren Public Library $21,620
Warren County YMCA $20,665
Boy Scouts – Chief Cornplanter Council & Camp Olmsted $19,265
Ruth M. Smith Center $18,002
Youngsville Public Library $17,557
Hospice of Warren County $16,687
Warren Philharmonic $8,620
Warren County Historical Society $7,300
Family Services of Warren County $7,010
Miracle Mountain Ranch $6,365
House of Hope of Warren County $6,270
Bollinger Enterprises (BEI) $5,890
Irvine Presbyterian Church $5,785
Wild Woods Animal Park $5,310
Warren First United Methodist Church $4,905
Calvary Baptist Church, Warren $4,425
Warren County Special Olympics $4,295
Women's Care Center $4,200
Top 20 Organizations by Number of Donors (as of 7:00 PM EST)
194 total donors gave to Hospice of Warren County
176 total donors gave to Warren Public Library
164 total donors gave to Paws Along the River Humane Society
145 total donors gave to Struthers Library Theatre
103 total donors gave to Youngsville Public Library
98 total donors gave to Warren County YMCA
76 total donors gave to Ruth M. Smith Center
72 total donors gave to Miracle Mountain Ranch
70 total donors gave to House of Hope of Warren County
64 total donors gave to Boy Scouts Chief Cornplanter Council Camp Olmsted
58 total donors gave to Bollinger Enterprises (BEI)
58 total donors gave to A Safe Place
57 total donors gave to CASA of Warren and Forest Counties
57 total donors gave to Crary Art Gallery
54 total donors gave to Warren County Historical Society
53 total donors gave to Warren Co. 4th of July Organization
49 total donors gave to Womens Care Center
49 total donors gave to Sugar Grove Free Library
47 total donors gave to The Salvation Army Warren Worship Service Center
46 total donors gave to Warren Philharmonic
Below is the last reporting we will provide this evening of the full list of organizations ranked by Dollar Amount (as of 5:00 PM EST)
| | |
| --- | --- |
| Struthers Library Theatre | $21,195 |
| Paws Along the River Humane Society | $20,495 |
| Warren Public Library | $19,390 |
| Boy Scouts – Chief Cornplanter Council & Camp Olmsted | $17,690 |
| Youngsville Public Library | $16,922 |
| Ruth M. Smith Center | $16,577 |
| Warren County YMCA | $15,705 |
| Hospice of Warren County | $14,627 |
| Warren Philharmonic | $7,725 |
| Warren County Historical Society | $6,950 |
| Family Services of Warren County | $5,935 |
| Irvine Presbyterian Church | $5,725 |
| Miracle Mountain Ranch | $5,590 |
| House of Hope of Warren County | $5,225 |
| Warren First United Methodist Church | $4,905 |
| Russell United Methodist Community Outreach | $3,885 |
| Wild Woods Animal Park | $3,785 |
| Bollinger Enterprises (BEI) | $3,695 |
| Women's Care Center | $3,630 |
| Sugar Grove Free Library | $3,430 |
| Sheffield United Methodist Church | $3,325 |
| The Salvation Army Warren Worship & Service Center | $3,265 |
| Calvary Baptist Church, Warren | $3,125 |
| A Safe Place | $2,936 |
| The Crossing | $2,930 |
| Second Harvest Food Bank BackPack Program | $2,915 |
| Trinity Memorial Episcopal Church | $2,805 |
| Warren County Summer Music School | $2,805 |
| First Church of the Nazarene County Food Pantry | $2,800 |
| Kids In Need Fund | $2,671 |
| Tidioute Area Volunteer Fire Department | $2,660 |
| Warren Concert Association | $2,625 |
| Crary Art Gallery | $2,610 |
| CASA of Warren and Forest Counties | $2,605 |
| Don Mills Achievement Center | $2,585 |
| Youth Connection | $2,470 |
| Brokenstraw Valley Fund | $2,440 |
| Warren Co. 4th of July Organization | $2,380 |
| Warren County Special Olympics | $2,315 |
| Audubon Community Nature Center-Warren County School Programs | $2,275 |
| Woman's Club of Warren – Education, Scholarship, Historic Preservation | $2,205 |
| Warren Area Student Union | $2,085 |
| Warren Athletics Fund | $1,955 |
| Warren County School District Food Pantry Program | $1,855 |
| Jefferson DeFrees Family Center | $1,815 |
| Second Harvest Food Bank of NW PA | $1,745 |
| North Warren Volunteer Fire Department | $1,725 |
| The Toy Shoppe of Warren | $1,670 |
| Warren County Toys for Tots | $1,645 |
| Revitalization Of Youngsville (ROY) | $1,585 |
| New Hope Assistance Dogs | $1,550 |
| Spring Creek Volunteer Fire Department | $1,525 |
| First Presbyterian Church of Warren Mission Projects | $1,455 |
| Pleasant Volunteer Fire Department | $1,450 |
| Elk Township Historical Society | $1,425 |
| Sugar Grove Volunteer Fire Department | $1,340 |
| Caring For Life | $1,335 |
| Community Foundation Scholarship Fund | $1,250 |
| Crary Home | $1,250 |
| Glade Volunteer Fire Department | $1,245 |
| Warren General Hospital Cancer Care Center | $1,145 |
| Allegheny Center for the Arts | $1,120 |
| Allegheny Community Center | $1,110 |
| Lander Volunteer Fire Department | $1,070 |
| Habitat for Humanity of Warren County | $1,015 |
| Rouse Estate | $1,015 |
| Warren County Veterans Council | $995 |
| Russell Volunteer Fire Department | $985 |
| Youngsville Volunteer Fire Department | $970 |
| Sheffield Volunteer Fire Department | $940 |
| Warren County Childrens Advocacy Center | $925 |
| Starbrick Volunteer Fire Department | $820 |
| Clarendon Fire Department | $805 |
| Garland Volunteer Fire Department | $800 |
| Leadership Warren County | $785 |
| Warren County 4-H | $765 |
| American Cancer Society | $690 |
| Sheffield Sports Boosters | $685 |
| Sheffield Area Hospitality Center | $640 |
| Grand Valley Volunteer Fire Department | $625 |
| Scandia Volunteer Fire Department | $620 |
| Cherry Grove Volunteer Fire Department | $605 |
| Girl Scouts of Western Pennsylvania | $600 |
| Trails At Jakes Rocks | $530 |
| Grace United Methodist Church | $521 |
| Warren Forest Higher Education Council | $510 |
| Warren Players | $505 |
| United Fund of Warren County | $500 |
| Tidioute Area Community Fund | $450 |
| Sheffield Township Library | $445 |
| American Red Cross Warren County Chapter | $435 |
| Wrightsville Volunteer Fire Department | $420 |
| Sheffield Ecumenical Food Pantry | $410 |
| American Heart Association | $360 |
| Conewango Creek Watershed Association | $340 |
| Tidioute Public Library | $325 |
| Allegheny Outdoor Club | $280 |
| Warren-Forest Counties Economic Opportunity Council | $220 |
| Bear Lake Volunteer Fire Department | $150 |
| The Boonies | $100 |
| Tidioute Area Health & Dental Center | $100 |
| Foundation for Free Enterprise Education/PFEW | $75 |
| March of Dimes | $75 |
| Inter-Faith Chapel of Warren | $50 |