The Community Foundation of Warren County online application is now available for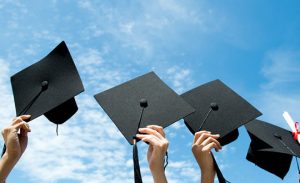 students who wish to apply for scholarships for the 2018 — 2019 academic year. "We delayed opening up the application this year while we worked out a few bugs from last year," noted Executive Director, John Lasher. "We hope the changes we made will help students complete the application more quickly and easily. The other goal with the changes was to streamline our processing and awarding scholarships to Warren County Students."
This is the second year for the online application. In addition to the changes in the application itself, detailed instructions for completing the application are available on the Foundation Website – cfowc.org. Students can go to the website, review the instructions, print them out if they wish, and have a good idea of the work required before they even look at the application itself. "We felt that detailed instructions would help the students avoid some of the errors and glitches they experienced last year," Lasher commented.
Students eligible to renew their Foundation scholarships will receive e-mail instructions letting them know that the online application is ready for them to enter their renewal information as well. The requirements for renewals are different from those for new applications. One key instruction which Lasher emphasized is "Do not start over. Extra applications from the same student have to be deleted and it can be difficult to discern which applications are the correct ones. If a student gets stuck, he or she should contact the Foundation immediately. We will provide the support they need and help them get back on track. Extra applications just 'gum up the works,' and have to be deleted."
The deadline for completing the online scholarship application is April 16, 2018. Because some programs require a parents' tax return, the program deadline occurs on "tax day." "Last year we ran later than we like on getting checks to schools, because we extended the deadline several times," Lasher noted. "This year we will not be doing that. If students have trouble with applying, I strongly recommend they contact us well before the deadline, so we can help them through the process. The deadline will not be extended this year."
For the 2017-2018 academic year, the Foundation awarded over one million dollars in scholarships to Warren County Students. Matching grants from the Pennsylvania Higher Education Assistance Agency added over $250,000 in additional funds for qualifying Warren County students who attended schools in Pennsylvania. A PATH matching grant can be as large as $2,500. According to Lasher, "We are very pleased with our partnership with the Pennsylvania Higher Education Assistance Agency (PHEAA). Their matching grants can make a significant impact on a student's finances before graduation and the loans they have to repay after graduation."
The Community Foundation Online Application is available at cfowc.org under the drop down tabs, "RECEIVE" and "Apply For Scholarships." For more information about the Community Foundation of Warren County visit cfowc.org or email cfwc@westpa.net.