The Community Foundation of Warren County recently made a grant of $200,000 to the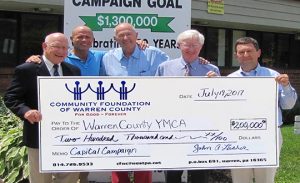 YMCA's Capital Campaign. Part of the funds for this three-year pledge were provided from the estate of John and Marian Wendell, designated for the benefit of Warren County. The YMCA, which recently celebrated its 150th anniversary, was a worthy candidate. From serving young men and women of all ages, including those in the military, to providing for children and families in need, it is a true community asset.
The mission of the Capital Campaign is to raise the funds necessary to revitalize the Warren County YMCA in order to better serve its members. Though the YMCA has been able to maintain the building and equipment, much of it is now past its depreciable life, and the cost of repairs and replacements is significant. Roofing and siding repairs are estimated at nearly $700,000, while new equipment will cost upwards of $300,000. In addition, the YMCA plans to reach out to the smaller communities in Warren County, and has made a commitment to bring a presence including programs and equipment to both Youngsville and Sheffield.
The Community Foundation of Warren County plays a crucial role in the success of projects like the YMCA Capital Campaign, having made distributions totaling almost $10 million to local non-profit organizations in the last five years. As the largest grant provider in the community, the Foundation Board of Directors knows and understands the many needs of local non-profit organizations such as the YMCA, and is dedicated to helping these organizations reach their goals. With a total of $900,000 raised and pledged to date toward the target of $1.3 million, it seems that the YMCA Capital Campaign is on track to succeed. To donate to the Capital Campaign you can visit the front desk at the YMCA or give online at www.warrenymca.org.