Hidden in the woodlands of Cherry Grove is the site of the "Mystery Well 646," which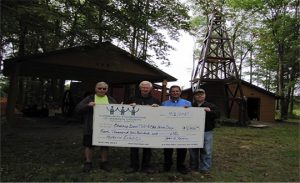 started a six-month oil boom between May of 1882 and 1883. A dedicated group of volunteers has been working for over a decade to preserve the history of this amazing, though short-lived oil boom in Warren County.
Recently the group, Cherry Grove Old Home Days, received a Marion 25 oilfield engine. In its day this engine and others like it, provided power to the pump-jacks in an oil field. Obtaining it is one more step toward preserving the heritage and telling the story of the Mystery Well 646 through an expanding historical exhibit located behind the Cherry Grove Volunteer Fire Department building.
The Community Foundation of Warren County and the DeFrees Family Memorial Fund, a component of the Foundation, provided a grant to support the construction of a protective pavilion structure to house the Marion 25 and the exhibit that will be developed around it. Bob Crowley and John Lasher traveled to Cherry Grove to present the grant check to Walt and Ed Atwood, who have provided leadership and many volunteer hours to the project.
"It was amazing to visit the site and learn that this oil boom took place in Warren County," Crowley noted. "Preserving our history is so important, and oil exploration and development has played such a role in Warren County and the surrounding region. I hope that as the exhibit is completed, this site will be visited by many Warren County students so they can learn about this aspect of our history."
According to Ed Atwood, the work on this project has been going on for years. "In June 2007 we celebrated the 125th anniversary of the Mystery Well. Since the work here at the site has mostly been done by volunteers, it has progressed slowly. We are grateful to the Foundation and the DeFrees Family Memorial Fund for their support. As we hold events, we hope people will come out to learn more about this exciting time in the history of Warren County."
For more information about the Mystery Well 646, visit the website, www.mysterywell.com.