The Robert H. Jackson Center held a celebration of the 125th anniversary of Justice Jackson's birth on February 15th.  The Community Foundation of Warren County was pleased to be a part of the celebration.
James Johnson, the former Director of the Jackson Center, delivered a talk to the tenth grade students of the Warren County School District on the morning of February 15th.  The presentation, held at Eisenhower High School, covered a wide range of topics, including Presidential powers defined in the U.S. Constitution,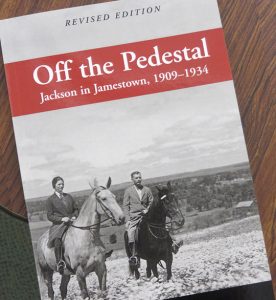 the separation of powers in the United States government, and international law.
In support of the event, the Community Foundation of Warren County provided the funds to purchase a copy of the book, Off the Pedestal, Jackson in Jamestown 1909-1934, by local author Helen Ebersole, for every 10th grade student.  The book offers a fascinating personal look at Justice Jackson – Supreme Court Justice and Chief U.S. Prosecutor at Nuremberg- and what his life was like when he lived and worked in Jamestown, NY.  Ms. Ebersole engaged in extensive research, using the Robert H. Jackson Center and Fenton History Center archives, to uncover aspects of Justice Jackson's life in Frewsburg and Jamestown that many would find intriguing.  The book explores what influence the local communities had on Jackson's values; his reputation as an eloquent speaker and brilliant writer; and, what experiences helped shape his world view.
"We are so pleased to offer this educational opportunity to the students in Warren County," noted Susan Murphy, Executive Director of the Center.  "Robert Jackson's life story is so inspirational.  From humble beginnings he became a Supreme Court Justice; and served as the prime architect of the prosecution of Nazi War Criminals at the Nuremburg Trials after World War II."
John Lasher, Executive Director of the Community Foundation commented, "The team at the Jackson Center always holds a great event for our students in Warren County.  Providing the books helps reinforce the story of Justice Jackson's life and accomplishments.  To go from Spring Creek to the Supreme Court of the United States was an incredible accomplishment, one that will inspire young people to set big goals for themselves and strive to do great things."
For more information about the Jackson Center and its programs go to www.roberthjackson.org.