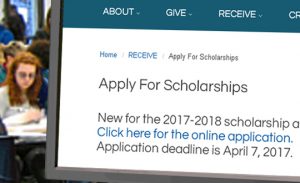 Scholarship applications for the more than 20 scholarships awarded by the Community Foundation of Warren County are now available online at cfowc.org.  Students choosing post-secondary education options including college and university studies, technical schools, community college, and career education such as nursing and other professions are eligible and encouraged to apply.  The deadline for applications is April 7, 2017 for the 2017-2018 academic year.
"One of the guiding principles of the Foundation is support of education," noted John Lasher, Executive Director.  "Every year we encourage graduating seniors who live in Warren County to apply for our scholarship programs.  Education after high school is so important and so expensive; almost every student requires aid in some form."
In 2015 the Community Foundation awarded 374 scholarships amounting to over $1,000,000!  This amount includes matching grants provided by the Pennsylvania Higher Education Assistance Agency's PATH program.  Scholarships typically range from $500 to several thousand dollars.  Some applicants are eligible for and receive more than one scholarship.  Most graduating Warren County high school seniors should qualify to be considered for at least one program administered by the Foundation.
In addition to the scholarship application, other documents are required for a student to be considered.  High school transcripts, letters of recommendation, a parent letter describing the financial situation and parents' most recent tax return are all required as uploads to the online application.  "We do not consider incomplete applications," Lasher commented.  "All required information is treated as confidential and is not shared outside our selection committees.  We value everyone's privacy and take precautions to safeguard personal information."
Some of the scholarships offered by the Foundation are renewable year-to-year.  Notices are sent to students at their home addresses reminding them of the information required to renew their scholarships, and the deadline.  "In future years we plan to send notices by e-mail," Lasher added.  "College transcripts, students' essays, and tax information are all that is needed for most renewals.  Some also require letters of recommendation from a college instructor or other supplemental information.  Those requirements are all spelled out in the renewal instructions."
The Community Foundation website lists all the scholarships offered by the Foundation and the requirements for each scholarship.  "After they answer the questions at the beginning of the application students will see the scholarships for which they are eligible.  This feature of the online application process will insure that students apply for and are considered for only those scholarships for which they qualify," Lasher noted.