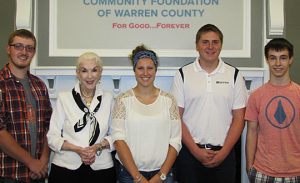 The Dr. Albert B. Cecchini Memorial Scholarship is dedicated to the memory of Dr. Cecchini.  The program reflects the spirit of Libera, the company he founded in 1987.  Established as a software company, Libera adopted a philosophy of social philanthropy, contributing its products and services to communities and organizations in need.  Since the scholarships are designed to honor his memory and reflect his vision, recipients of these scholarships must demonstrate good citizenship, community service, academic achievement, and good moral character.  This award is renewable and can support a student throughout his or her college career.  Ten awards have been made since this program, now in its third year, began.  The current recipients are Amy Castagnino, Eric Cecco, Branden Lake, and Dakota Matson, all of whom are recipients of multi-year awards.
Pictured with Babette Cecchini are the recipients of the 2016-2017 Albert B. Cecchini Memorial Scholarship; Branden Lake, Mrs. Cecchini, Amy Castagnino, Eric Cecco, and Dakota Matson.
The Community Foundation awarded over $900,000 of scholarships for the 2016-2017 academic year.  Matching PATH grants awarded by the Pennsylvania Higher Education Assistance Agency to qualifying students attending Pennsylvania schools boost the total over $1,000,000.
Scholarship applications for the 2017-2018 school year will be available after February 1, 2017.