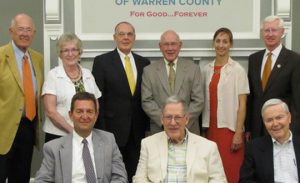 Dr. Charles E. MacKenzie retired as Executive Director of the Community Foundation in 2015.  To honor his contributions to education and his tireless work on the foundation's scholarship programs, the foundation board of directors named one of its scholarship programs in honor of him.  The Dr. Charles E. MacKenzie Scholarship program awards graduating seniors from each of the four county high schools an award to help them get started on their college careers.  Several students from each high school are nominated by their high school guidance counselors.  This year's recipients are Mallory Trumbull (EHS), Maribeth Baker (SAHS), Mariah Allen (WAHS), and Robert Bower (YHS).
The Community Foundation awarded over $900,000 of scholarships for the 2016-2017 academic year.  Matching PATH grants awarded by the Pennsylvania Higher Education Assistance Agency to qualifying students attending Pennsylvania schools boost the total over $1,000,000.
Scholarship applications for the 2017-2018 school year will be available after February 1, 2017.